Dictation Recording
As with most new technologies, our operation makes extensive use of computers. Our systems are 100% digital using encryption technology for secure transmissions. Although the operational aspects are technical in nature, the user does not need to be computer literate or have any technical knowledge. The only equipment the user will ever need to operate will be a simple touch tone telephone and through it, will be able to dictate reports, pause in between, rewind, fast forward, playback and indicate report priority while dictating.
We offer certain other advanced features, like editing an older dictation on our remote server via telephone lines
Telephone Dictation Systems
The doctors will be provided with unique four digit ID and access to state-of-the-art digital dictation systems via telephone line to dial into and record their dictation. The dictation instructions are very simple and user friendly. The dictation lines are available 24X7 and you may dictate from anywhere, at anytime. Dictation servers are built with fault tolerance - mirrored drives. A redundant system is ready in case of failure. A backup system is also ready offsite in case of primary system failure.
Digital Recorders
You may alternatively use held recorders (Olympus, Dictaphone, Uher, Sony, Voice-IT, etc),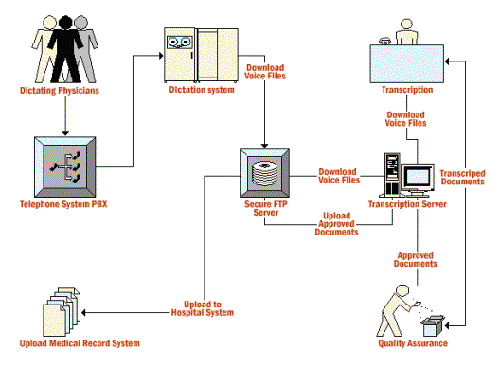 Delivery
We can deliver the transcriptions in various ways. Reports can be downloaded directly into your PC, emailed to you using a prearranged format or printed at our location on your letterhead and mailed to you. If these options do not suit your requirements, we would be happy to use any alternative that suits you.

Our system is capable of automatically delivering the emails to multiple users. These emails are encrypted and password protected and can be emailed to one or multiple recipients as per your specifications. The reports can be printed and delivered to any of the client locations at specific times or they can be remotely printed.
You may request a copy of your old transcriptions anytime and we can provide the same with no extra cost.

Turn Around Time
Our Transcriptionists work 24 hours a day, 7 days a week. Hence we can offer 24, 18,12 hours and even 8 & 6 hours with no compromise on Quality and Accuracy.
Also available on line services (up to 3 hour turnout time) required for emergency services handled by qualified people

Formatting
We format your dictation as per your standard and requirement
We can provide documents in any format like Microsoft Word, Word perfect etc., We even can make a templates and send the reports back in desired format
We can assist you in personalizing report options to best meet your needs. We will also provide FREE technical assistance to setup the whole process without compromising your current workflow.

Accuracy Transcriptionists
We ensure high accuracy output

The transcribed dictation is edited by qualified and experience proof readers before it reaches you

Qualified Doctors do final editing at QA2 level from the same Specialty.
All our Transcriptionists undergo a regular skill upgradation process through periodical Audio / Visual skill upgrading techniques.

Our Transcriptionists are mainly from Biology background resulting in recognizing and understanding of medical terms naturally.

We have our in-house Training Institute where each candidate has to go through a 28-week training program conducted by experienced professionals. Only after successfully completing a stringent test of capabilities, a candidate is selected as a Medical Transcriptionist.

Every Transcriptionist is skilled with extensive experience in interpreting and typing all kind of medical language in each specialty.
Qualified Professionals
Our personnel are technically qualified and are from the medical fraternity, with specialization in their respective fields.
While qualified people undertake Transcription, experienced QA handle final editing.
Dedicated specialists on our panel handle typical Specialty assignments.

Be Our Associate / Business Partner
If you have regular MT business outsourcing potential, we invite you to become our Business Associate. It's a unique proposition, enabling you to benefit from two-tier profitability in the business.
Email us at: partners@medscribers.com
If you work for any doctor or know any doctor you may also send us a referral. This unique scheme is available on First-Come-First Serve Basis.
Please click here to got to FREE TRIAL section.